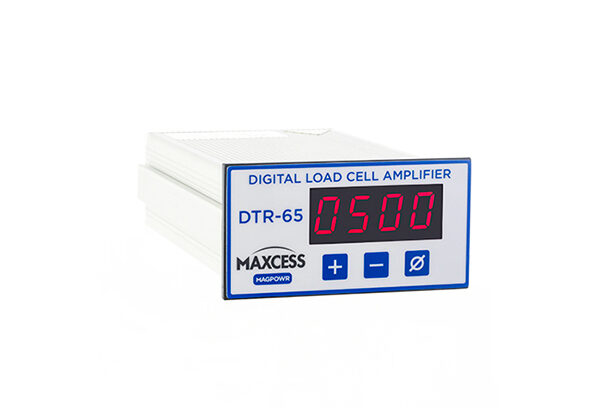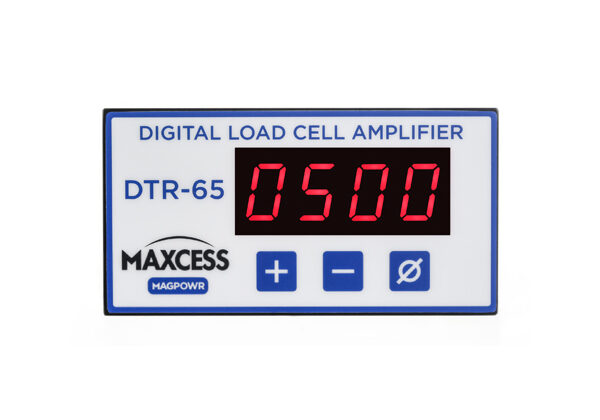 MAGPOWR DTR-65 Digitaler Messverstärker
Leistungsstarker und vielseitiger digitaler Messverstärker zum Schalttafeleinbau
Schutzart IP65 für schwierige Umgebungen
Schnelle und einfache Kalibrierung, bietet gewichtslose Wägezellenkalibrierung
Der DTR-65 ist die richtige Wahl, um eine Bahnspannung direkt am Bedienpult zu ermitteln. Außerdem kann mit den Referenzausgängen ein PLC bedient werden, um den gemessenen Bahnzug an anderer Stelle anzuzeigen oder zur Bahnregelung zu nutzen .
Der DTR-65 ist ein leistungsfähiger und vielseitiger digitaler Verstärker für den Schalttafeleinbau, der lokal gemessenen Spannung auf einem Bedienpult anzeigt. Er multipliziert ein Millivolt-Spannungssignal in einen nutzbaren 0 bis 10 VDC- und 4 bis 20 mADC-Analogausgang.
Der DTR-65 ist ein 1/8-DIN-Schalttafelgehäuse, das an der Vorderseite IP65-geschützt ist. Er lässt sich bequem bedienen und einrichten und ist mit einem Tastenfeld und einer Vier-Segment-Anzeige, vollprogrammierbaren Tiefpassfiltern für jeden Ausgang, Spannungsalarm-Schwellenwerten, schneller und einfacher Kalibrierung und sowie mit der Möglichkeit der gewichtslosen Kalibrierung ausgestattet.
DTR-65 Digitale Zugkraftanzeige
Verstärkung
Schutzklasse
Betriebstemperaturbereich - DC-Versorgung
Betriebstemperaturbereich - AC-Versorgung
Zertifizierungen

CE (EN61326-1) TÜV-geprüft (UL61010-1) CAN/CSA-C22.2# 61010-1 CB nach IEC 61010-1 RoHS

CE (EN61326-1) TÜV-geprüft (UL61010-1) CAN/CSA-C22.2# 61010-1 CB nach IEC 61010-1 RoHS
Anhänger und Etiketten
Batterie
Flexible Verpackung
Hygienepapier
Karton
Lebensmittel und Getränke
Pharmazie
Spezialverarbeitung
Verpackungindustrie
Vliesstoffe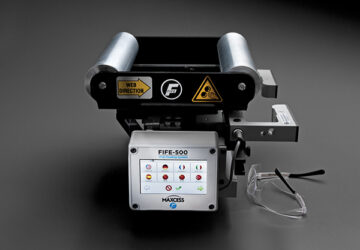 FIFE-500 Bahnlaufregelungssystem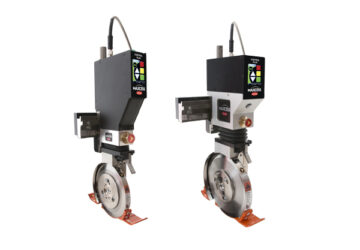 Elektrischer Messerhalter "CONTROL SERIE"
Maximize operator safety, productivity and roll quality with Tidland's Control Series. Features include an LED-backlit touchscreen interface, enhanced durability and available wireless operation.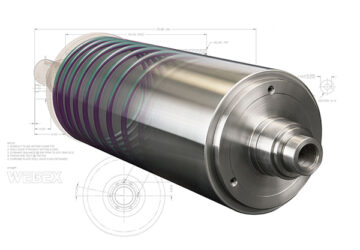 Webex Wärmeübertragungswalzen (Kühlwalzen)
A uniquely engineered internal temperature management system allows for precise temperature control, ensuring consistent, reliable performance in heat transfer applications.