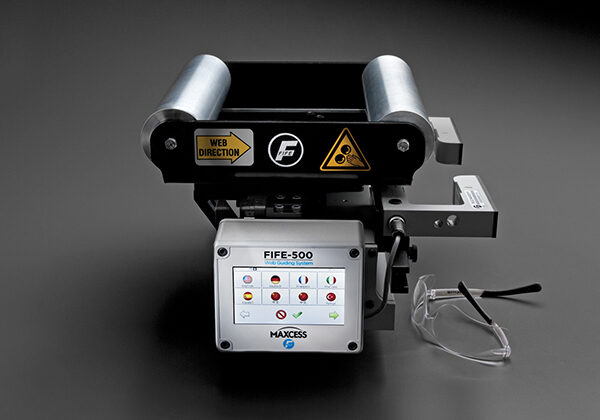 FIFE-500 Bahnlaufregelungssystem
Kostengünstige Bahnführungslösung für Schmalbahn- und Vliesstoffanwendungen
Verfügt über einen intuitiven Farb-Touchscreen mit mehreren Sprachen für eine einfache Bedienung
Verwendet einen bürstenlosen Motor für geringeren Wartungsaufwand und größere Schubkraft
Branchen
Nonwovens
Pharmaceutical
Tag and Label
Towel and Tissue
Durch die Verwendung neuster Bahnführungstechologie ist das FIFE-500 Bahnlaufregelungssystem für Schmalbahn- und Vliesstoffanwendungen eine kostengünstige Lösung, die Ihnen hilft, die Effizienz Ihrer Anlage zu steigern. Das Herzstück des FIFE-500 ist ein bedienerfreundlicher Farb-Touchscreen mit Symbolen und Text in 20 Sprachen, der die Bedienung vereinfacht und den Zeitaufwand für Schulungen reduziert. Darüber hinaus erfordert der bürstenlose Motor weniger Wartung, was Ihnen Zeit und Geld spart.
FIFE-500 Bahnlaufregelungssystem
Maximale Bahnbreite
Standard-Rollendurchmesser

1,575, 2,362, 3,150, 3,937 in

40, 60, 80, 100 mm

Spannungsversorgung
Temperaturbereich
Zertifizierungen

CE, IEC61010-1/UL61010-1

Sprachen

Englisch, Deutsch, Französisch, Italienisch, Spanisch, Chinesisch (vereinfacht), Koreanisch, Portugiesisch, Japanisch, Schwedisch, Niederländisch, Türkisch, Katalanisch, Vietnamesisch, Tschechisch

Führungsspanne

7,09 - 23,62 in

180 - 600 mm

Standard-Rollenlängen

6,30 - 35,40 in

160 - 900 mm

Schutzklasse
We use technologies, such as cookies, to customize content and advertising, to provide social media features and to analyze traffic to the site. We also share information about your use of our site with our trusted social media, advertising and analytics partners.