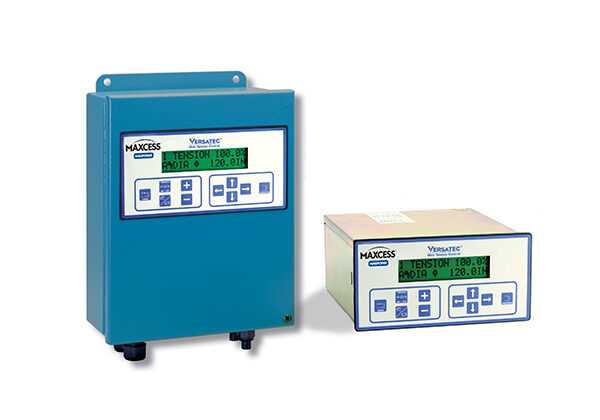 MAGPOWR VERSATEC Bahnzugregelung
Bietet Abwickeln, Aufwickeln, Tänzer, Schlaufen- und Abstandsregelung in einem kompakten Paket
Schnelles Umrüsten durch vier speicherbare Konfigurationen, um Ausfallzeiten zu reduzieren
Intuitive Bedieneroberfläche in fünf Sprachen erfordert minimalen Schulungsaufwand. Mit der VERSATEC Bahnzugregelung können Sie sofort loslegen
Die Bahnzugregelung VERSATEC von MAGPOWR ist sehr bedienerfreundlich und mit ihren zahlreichen Funktionen und Betriebsmodi sehr flexibel. Die VERSATEC Bahnzugregelung ist ein multifunktionaler automatischer Bahnzug- bzw. Prozessregler, bei dem der US-2-Ultraschallsensor zur Messung von Abstand und Rollendurchmesser eingesetzt wird. Er verfügt über wählbare Betriebsmodi für Abwickeln, Aufwickeln, Tänzer, Schlaufen- oder Abstandsregelung. Durch diese Flexibilität entfällt die Notwendigkeit, die Bedienung verschiedener Regler für unterschiedliche Bahnspannungsbereiche zu erlernen.
Sämtliche Bildschirme zu Einrichtung und Betrieb des VERSATEC werden direkt auf dem mehrzeiligen, alphanumerischen, menügesteuerten Display in Volltext - nicht in Form von Codes - mit den entsprechenden Angaben zu Werten oder Status angezeigt. Über das Tastenfeld und das Display lassen sich sämtlich Parameter jedes Betriebsmodus steuern, einschließlich Bahnspannung, Abstand, Tänzerposition, Schlaufenposition, Alarmschwellenwerte, Sicherheit, Sprache und Einheiten sowie Setup-Auswahl.
US-2 Ultraschallsensor Reichweite
Strahlverteilung
Tänzer-Positionssensor

1-10 kΩ Potentiometer Sensor MAGPOWR DFP oder DFP-2 Sensor 0 - 5 VDC Signal

1-10 kΩ Potentiometer Sensor MAGPOWR DFP oder DFP-2 Sensor 0 - 5 VDC Signal

Controller Betriebstemperaturbereich
US-2 Ultraschallsensor Betriebstemperaturbereich
Schutzart - VTC-Frontplatten-Gehäuse
Schutzklasse - VTC-E & US-2
Benutzerhandbuch
Software-Aktualisierung
2D/3D Zeichnungen
Produktdatenblatt
Anhänger und Etiketten
Batterie
Flexible Verpackung
Hygienepapier
Karton
Lebensmittel und Getränke
Pharmazie
Spezialverarbeitung
Verpackungindustrie
Vliesstoffe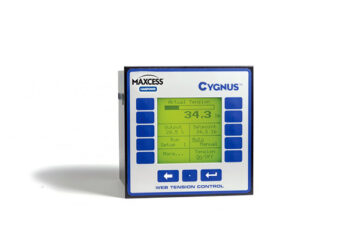 Cygnus Bahnzugregelung
The Cygnus Tension Controller is an advanced, intuitive tension controller in a compact enclosure that's easy to navigate for operators.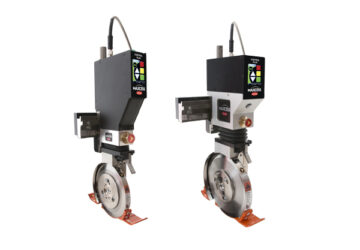 Elektrischer Messerhalter "CONTROL SERIE"
Maximize operator safety, productivity and roll quality with Tidland's Control Series. Features include an LED-backlit touchscreen interface, enhanced durability and available wireless operation.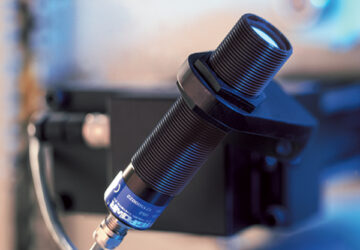 MAGPOWR US-2 Ultraschallsensor
Reduce scrap and maximize profits by increasing the accuracy and control of the web with MAGPOWR's US-2 Ultrasonic Sensor.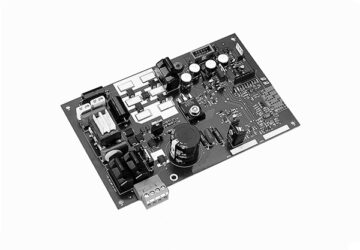 MAGPOWR PA-90/PA-2 Leistungsverstärker für magnetische Bremsen und Kupplungen
MAGPOWR's PA-90 and PA-2 Power Amplifiers provide the extra current required for controlling magnetic particle brakes and clutches in any tension control application.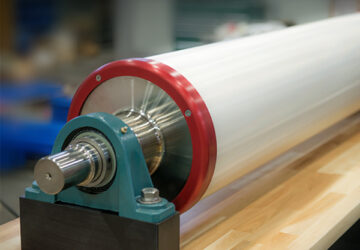 Webex Vakuumwalzen
A uniquely engineered internal vacuum system provides a strong, stable grip on a variety of materials, ensuring consistent and reliable web handling.