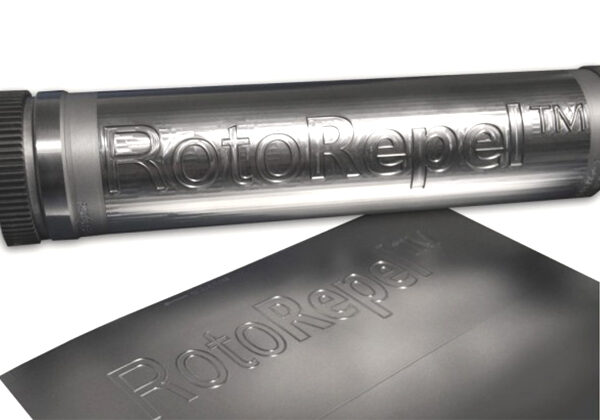 RotoRepel™ Antihaftbeschichtung
Diese preisgekrönte Lösung löst die schwierigsten Herausforderungen in Bezug auf Antihaftbeschichtung und Klebstoffe und verbessert gleichzeitig die Gesamtleistung und Produktivität.
Unsere exklusive Linie von RotoRepel™-Behandlungen wird Ihre Erwartungen an eine Haftungskontrolle und Antihaftbeschichtung verändern. RotoRepel™ ist jetzt auch in unserer Premium-Formel, RotoRepel™ Rx, erhältlich, die FDA-konform ist.
Auf einem Stanzblech oder Stanzzylinder macht sich RotoRepel™ schon bei der ersten Verwendung bezahlt – die Druckmaschinen laufen schneller und die Werkzeuge halten länger.
Unsere Kunden berichten uns, dass RotoRepel™ umfassende Vorteile bei der Klebstoffkontrolle bietet, die weit über die Antihafteigenschaften hinausgehen. RotoRepel™ bietet auch weitere positive Eigenschaften, die die Gesamtleistung der Werkzeuge und Maschinen verbessern, darunter:
Verringerung der Klebstoffablagerungen bei allen Arten von Klebstoff - weniger Werkzeugverschleiß und -schäden
Signifikante Reduzierung von Maschinenstillständen - die Maschine läuft schneller und länger
Erleichtert das Säubern der Stanzwerkzeuge und ihren erneuten Einsatz
Weniger fehlende Etiketten und weniger Blockierungen beim Aufwickeln, Abfall und Ineffizienzen werden reduziert
Produktmerkmale
Signifikante Reduzierung der Stillstände für Reinigung und Wartung
Weniger Beschädigung des Werkzeugs durch Bediener
Leichtere Lagerung der Stanzwerkzeuge
Stanzwerkzeuge sind länger haltbar
Reduktion der statischen Aufladung
Kann auf aufgearbeiteten und nachgeschärften Stanzwerkzeugen erneut aufgetragen werden
Produktanwendungen
Druckempfindliche Etiketten
No-Look-Etiketten
Viele weitere Tag- & Label-Anwendungen
Wundversorgung
Verarbeitete Materialien
Folien
Papier
Laminierte Papiere
Wundversorgung
Vliesstoffe
VHB-Schaumstoffe
Medipore
Extrem starke Klebstoffe
Reifenetiketten
Folien mit starker Kleberschicht
Freigelegte Transferkleber
Gefertigte Teile
Darüber hinaus wurde die Formel für RotoRepel™ Rx einer Prüfung auf Einhaltung der Vorschriften der US Food and Drug Administration (FDA), Migrationstests und einer toxikologischen Sicherheitsbewertung unterzogen. RotoRepel™ Rx ist "lebensmittelecht" und sicher für den vorgesehenen Einsatz bei der Verarbeitung von Teilen, Geräten und Etiketten. RotoRepel™ Rx ist bei der US Food and Drug Administration unter Master File for Devices (MAF) #2975 eingereicht.
Wellpappe
Verpackungindustrie
Anhänger und Etiketten
Lebensmittel und Getränke
Flexible Verpackung
Pharmazie
Vliesstoffe
Spezialverarbeitung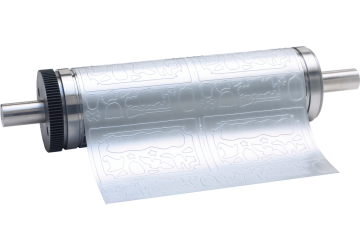 AccuPrime™ Stanzblech (Standardpapier- und Folienanwendungen)
The AccuPrime™ Flexible Die is the most versatile cutting die in the RotoMetrics portfolio, engineered to convert a wide range of paper and synthetic materials, including film, paper, laminated papers, tag material and paperboard.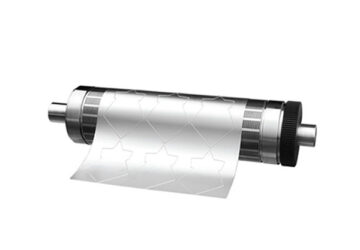 Stanzblech AccuStar® UltraFilm™ (Folienanwendungen)
The AccuStar™ UltraFilm™ is considered the "all-star" of RotoMetrics' flexible die solutions featuring the exacting precision tolerances required to convert the most challenging films and liners in today's market.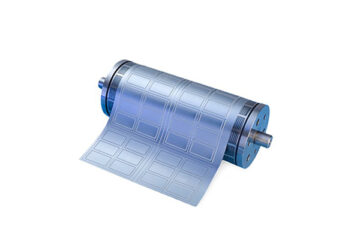 Stanzblech DuraLine (Abrasive Anwendungen)
The DuraLine is the go-to flexible die for all direct thermal and thermal transfer applications. It's specifically designed to conquer the most abrasive materials with proprietary coating techniques, unique chemistries, and exclusive formulas to deliver extra life and increased durability.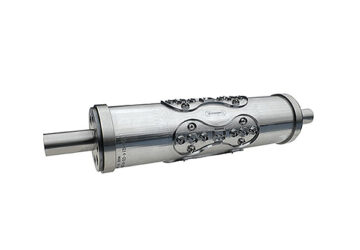 Stanzzylinder RD300
Cut precision parts, thick substrates and thin films or synthetic constructions with ease. The RD300 solid die provides a totally precise performance whether in complex long run to-liner, challenging zero clearance, or complicated metal-to-metal converting projects.