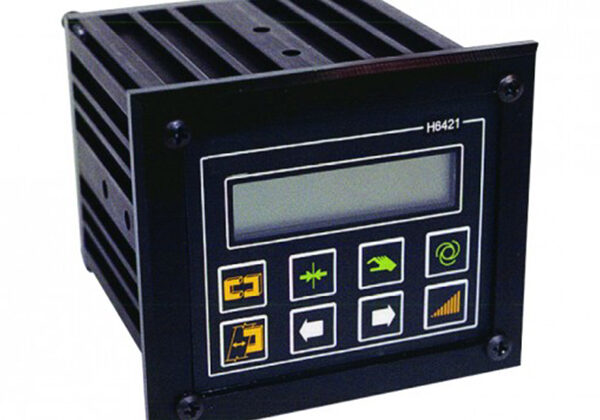 Simplex H6421 Controller
Controller und Display kombiniert in einer kompakten Einheit für eine einfache Montage
Optionen für Unter- oder Aufputzmontage
Schnelles Einrichten, einfache Bedienung und Selbstdiagnose für schnellere Einrichtungen und geringere Ausfallzeiten
Passt bei allen Simplex-Sensoren und -Aktuatoren
Branchen
Battery
Nonwovens
Packaging
Specialty Converting
Towel and Tissue
Der H6421 ist ideal für Simplex-Sensoren und -Aktuatoren in Anwendungen mit schmalen Bahnen und ermöglicht eine präzise Regelung der Bahnposition, sei es bei der Kantenregelung, der Mittenregelung oder der Linienregelung.
Darüber hinaus bietet er eine automatische Selbstdiagnose, die Fehlermeldungen anzeigt, wenn ein Parameter nicht innerhalb der festgelegten Grenzen liegt. Ein Statusausgang, der den normalen Reglerbetrieb anzeigt, kann zur kontinuierlichen Kontrolle an ein Überwachungssystem angeschlossen werden.
Eingangsleistung

24 V DC ±5% bei 2,5 Ampere

Aktor Ausgangsleistung

50 W
kontinuierliche PWM

Status-Anzeige Ausgang

24 V DC bei maximal 50 mA

Zulässige Umgebungstemperatur
Gewicht
Maße

3,268 x 3,898 x 4,213 Zoll

83 x 99 x 107 mm
We use technologies, such as cookies, to customize content and advertising, to provide social media features and to analyze traffic to the site. We also share information about your use of our site with our trusted social media, advertising and analytics partners.