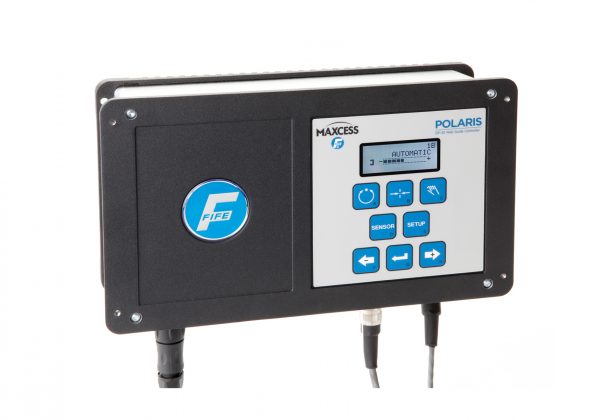 DP-30 Web Guide Controller
Form, fit, and improved functionality
Drop-in replacement for CDP-01
User-friendly keypad – intuitive for end users or internal operators
Backlit LCD readout – easy to understand and operate
Auto setup – configures controller for optimal performance
Intuitive menu layout – less confusion for operators / less potential downtime
High dynamic response
Built for demanding web guiding applications, the Polaris DP-30 provides reliable, accurate control of web alignment via a simple, easy-to-operate interface. The advanced setup features of this controller automatically determine and set guide polarity, guide point, and system gain.
The Polaris DP-30 is the perfect way to introduce new technology and ease of operation to your existing line. Fife makes it easy to update your existing CDP-01 Web Guide Controllers with this new technology by keeping the same cabling, mounting dimensions and bolt pattern, and by offering convenient retrofit packages. Available for both electromechanical and electrohydraulic operations, the Polaris DP-30 can be configured for line, edge, or center guiding applications.
We use technologies, such as cookies, to customize content and advertising, to provide social media features and to analyze traffic to the site. We also share information about your use of our site with our trusted social media, advertising and analytics partners.