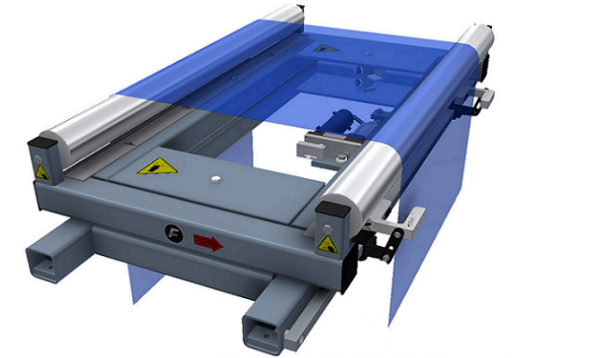 Fife Symat 120A Offset Pivot Guide
Designed to accommodate web widths up to 1,200 mm
Maximum allowable tension 1,500 N
Precise, backlash-free actuator and DC servomotor
Durable construction for low maintenance and long-lasting reliability
Accommodates all threading styles
Optional servo-center available to speed setup and threading
Compatible with all Fife sensors and web guide controllers for edge, center or line guiding
Optional mounting brackets and stands are available
Custom designs are available upon request
Fife Symat 120A Offset Pivot Guide Overview
Durable and versatile, the Symat 120A electromechanical offset pivot guide is engineered to accommodate web widths up to 1200 mm wide and tensions up to 1500 N. This guide is ideal for edge, line, or center guiding applications where long entry and exit spans are required.
Built for long-lasting, reliable operation, the Symat 120A delivers fast response for highly accurate web positioning. Optional Servo-Center provides automatic guide centering to speed the setup and threading process.
*Product not available in North America.
SYMAT 120A OFFSET PIVOT GUIDE SPECIFICATIONS
| | |
| --- | --- |
| Guide Span Minimum | |
| Guide Span Maximum | |
| Roller Face Minimum | |
| Roller Face Maximum | |
| Roller Diameter Minimum | |
| Roller Diameter Maximum | |
| Stroke | |
| Maximum Tension | |