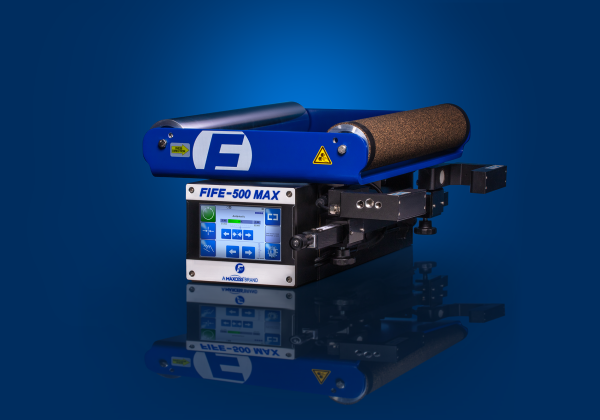 Sistema de Guiado de Banda FIFE-500 MAX
Comunicaciones integradas: Ethernet/IP, CCLink, RS-485 (complemento opcional de PROFINET, EtherCAT)
Precisión de guiado hasta 10 veces superior al de la competencia
Pantalla táctil intuitiva a color de 127 mm (5 pulgadas)
Múltiples lenguajes para una rápida configuración y funcionamiento, con una capacitación mínima
Motor de 8 polos sin escobillas para un guiado más suave y una reducción de los desperdicios
Fácil conexión a su PLC
Mesa de empalme opcional y soporte de montaje de ajuste preciso
NEW- Now available for web widths up to 1200 mm and tensions up to 800N
Accuracy Perfected.
More Features, More Value
La FIFE-500 MAX toma todas las características que los clientes adoraban de la FIFE-500 y las optimiza al máximo. Con la incorporación del sistema de red y comunicaciones, una intuitiva pantalla táctil en color de 5 pulgadas, un motor de 8 polos para un guiado más suave, una mayor precisión y una reducción de los desperdicios, la FIFE-500 MAX aprovecha la última tecnología a un precio asequible para mejorar el desempeño y reducir el mantenimiento. La utilización de motores sin escobillas y las velocidades de procesamiento aún más rápidas permiten a la FIFE-500 MAX adaptarse rápidamente a los cambios en la banda, incluso a altas velocidades de línea.
NEW- Now available for web widths up to 1200 mm and tensions up to 800N.
Sistema de guiado de banda FIFE-500
Ancho de la banda

1,575, 2,362, 3,150, 3,937 in

40, 60, 80, 100 mm

Clase de protección
Certificaciones

CE, IEC61010-1/UL61010-1

Idiomas

Inglés, alemán, francés, italiano, español, chino simplificado, coreano, portugués, japonés, sueco, holandés, turco, catalán, vietnamita, checo

Extensión de la guía

7,09 - 23,62 in

180 - 600 mm

Largos estándar del rodillo

6,30 - 35,40 in

160 - 900 mm
Especificación de Producto
Manual de Usuario
Batería
Etiquetas y distintivos
Materiales no tejidos
Productos farmacéuticos
Toallas y pañuelos