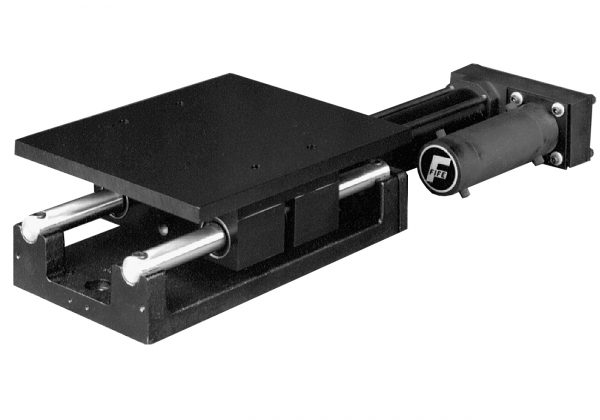 EM-8, EM-11 Sensor Positioners
Versatile control packages available
Custom designed and manufactured to meet your specific requirements
EM-8
Durable construction and quality design assure continuous-duty operation in any chasing application
Servo-Center option available; brings the positioner to midstroke automatically
Standard mounting surface is 254 mm x 305 mm (10 inches x 12 inches)
EM-11
Continuous-duty positioner with the strength to handle long-distance sensor placement
Sensor placement up to 1524 mm (60 inches) apart, with up to 406 mm (16 inches) of stroke
Sensor mounting available for virtually every Fife sensor
The EM-8 (shown above) provides a dependable way to position equipment accurately in virtually any chasing application. Designed for continuous operation, this heavy-duty, dual race rod positioner is capable of handling loads up to 1252 lbs (568 kg), with strokes from 2.0" up to 6.0" (51 mm to 152 mm). The EM-8 positioner is available with hydraulic cylinders or electromechanical actuators to ensure it will meet your system requirements.
The EM-8 can be tied into an existing system or maintained as a separate system. When used as a chasing system, the positioner ensures your equipment or device is accurately aligned and continuously follows or chases a moving web. Standard mounting surface is 10.0" x 12.0" (254 mm x 305 mm). An automated positioner centering (servocenter) option is available, as well as a variety of controller systems.
The EM-11 is a single-base, dual-sensor positioner delivering the strength to handle long-distance sensor placement. Engineered for continuous operation, the EM-11 provides sensor mounting spans up to 60.0" (1524 mm) apart, with standard strokes up to 16.0" (406 mm). The long reach and stroke of this positioner give you the ability to place sensors where you want them without altering your web path.
The EM-11 is capable of handling the most demanding chasing applications. It can be mounted in any orientation to the process line, allowing flexibility for easy installation. The EM-11 Sensor Positioner is available with electromechanical actuators or hydraulic cylinders to ensure it will meet your system requirements.