With a wide range of torque outputs and easy maintenance at competitive pricing, customers will see less downtime
Oak Brook, Illinois, January 27, 2022- Maxcess, a global leader in innovative products and services for web handling applications, today unveiled the Tidland D6X differential air shaft. Ideal for packaging and general converting applications, the D6X improves on the D2 and D3 models by offering easy maintenance, removable core stop trays for fast change-overs and a wide range of torque outputs at competitive pricing to run better, faster and smarter.
"We designed the D6X to improve upon our legacy D2 and D3 core-slip differential shafts in every way," said Aaron Powers, Global Product Manager for Tidland Winding Solutions. "The removable core stop trays allow an operator to remove the tray with core stop positions set for one job, then replace it with saved core stop positions set for the next. The D6X will help our customers reduce their setup times and simplify maintenance, allowing for more uptime and throughput."
Featuring easy-to-replace tension segments and air bladders, as well as two air systems for tension control and core stops, the D6X allows for high weight capacities while supporting odd and larger sized cores for a wide range of applications. With core stops three ways around, customers will see greater stability for better edge quality at faster speeds.
Visit www.Maxcessintl.com or call 1-844-MAXCESS to learn how to reduce downtime and improve safety the new D6X differential air shaft today.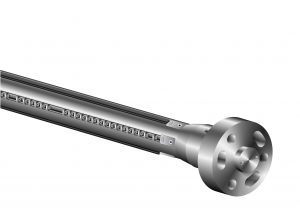 About Maxcess: Maxcess helps its customers maximize productivity through innovative products and services worldwide. By combining more than 400 years of global service and support across the storied product brands of RotoMetrics, Fife, Tidland, MAGPOWR, Webex, Valley Roller, Menges Roller and Componex, Maxcess offers an unrivaled network of application experts and end-to-end web handling solutions to help you work better, faster and smarter. Visit them online at www.maxcessintl.com