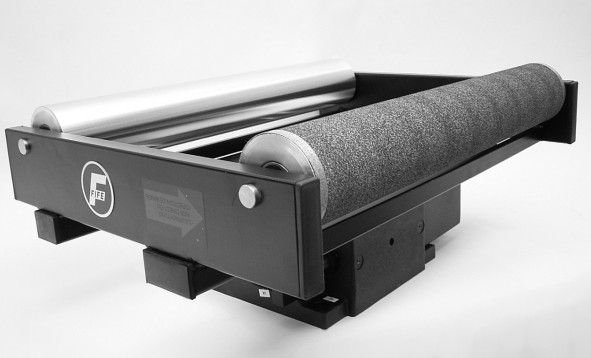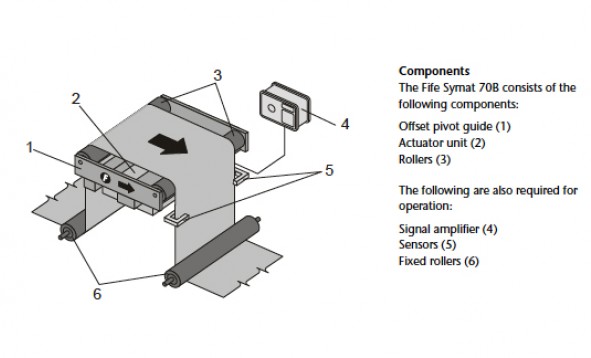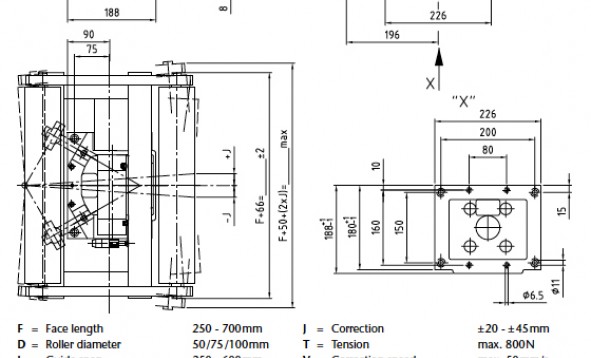 Fife Symat 70G Offset Pivot Guide
Highly accurate due to a backlash free design and a high dynamic response.
Compact and robust construction
Wide range of accessories, such as integrated splicing table, mounting brackets, motorized and automatic sensor positioners
Compatible with all Fife guiding controllers and sensors
The Fife Symat 70G is a compact web guiding system that allows for correction of the web position with minimal entry and exit spans. Thanks to its modular design, the Fife Symat 70G can be easily configured to meet the requirements of your application. The Fife Symat 70G can be adapted to a very wide range of applications using different roller lengths, diameters and distances as well as different Fife components. Sensor assembly poles, support rollers and sensor positioning equipment can be delivered fully assembled with the system or retrofitted at a later time for all installation options.
How the SYMAT 70G works
After the Fife Symat 70G has been installed, the rollers of the offset pivot guide should be aligned parallel to the rollers of the customer system. During operation, the sensor installed in the exit span monitors the web position. If the web leaves the required position, an error signal is generated and recorded by a signal amplifier. This then activates a linear actuator that moves the offset pivot guide and thus corrects the web position. Rotational motion takes place around an axis that is located vertically to the base frame on the outer edge of the entry roller.
Accessories
An optionally available servo-center transducer makes it possible to center the offset pivot guide quickly. While the system is placed in service, when the width of the web is being changed, or when splicing or threading the web, the rollers of the offset pivot guide can thus be aligned parallel to the rollers of the customer system. An additionally available stroke alarm makes it possible to record specific positions of the offset pivot guide, such as the positional limit. Expansions and adaptations are possible with Installation beams, Remote control units, Oscillators, Sensor positioning equipment and Edge, center and line sensors.1.9
*Product not available in North America.
SYMAT 70G OFFSET PIVOT GUIDE SPECIFICATIONS
| | |
| --- | --- |
| Guide Span Minimum | |
| Guide Span Maximum | |
| Roller Face Minimum | |
| Roller Face Maximum | |
| Roller Diameter Minimum | |
| Roller Diameter Maximum | |
| Maximum Correction (based upon guide span) | |
| Maximum Tension | |