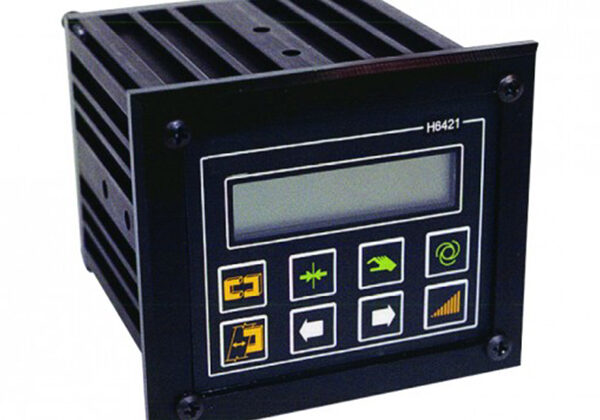 Simplex H6421 Controller
Controller and display combined in one compact unit for easy mounting
Flush or surface mount options
Quick set-up, simple operation, and self-diagnostics for quicker setups and reduced downtime
Pairs with all Simplex sensors and actuators
Industries
Battery
Nonwovens
Packaging
Specialty Converting
Towel and Tissue
Ideal for Simplex sensors and actuators in narrow web applications, the H6421 provides precise web position control, be it edge guiding, centerguiding, or line following.
In addition, it offers automatic self-diagnostics display fault messages to indicate any parameter that is not within boundaries. A status output, which indicates normal controller operation, can be connected to a supervisory system for continuous monitoring.
Input Power

24 V dc ±5% at 2.5 amps

24 V dc ±5% at 2.5 amps

Actuator Power Output

continuous PWM

Status Indicator Output

24 V dc at 50 mA maximum

24 V dc at 50 mA maximum

Allowable Ambient Temperature
Weight
Dimensions

3.268 x 3.898 x 4.213 in

83 x 99 x 107 mm
We use technologies, such as cookies, to customize content and advertising, to provide social media features and to analyze traffic to the site. We also share information about your use of our site with our trusted social media, advertising and analytics partners.