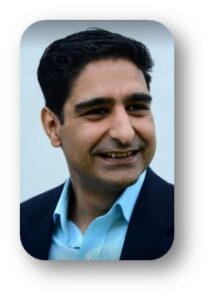 Oak Brook, IL – 22 May 2023 – Maxcess, a global leader in innovative products and services for automated web handling applications, is pleased to announce the appointment of Javeed Ashraf Buch as Vice President and General Manager Americas. Mr. Buch brings over two decades of sales and service experience in web converting applications and machinery, including film extrusion lines, printing presses, business development, aftermarket service and customer support.
In his new role, Mr. Buch will be responsible for leading Maxcess' sales and customer experience strategy for OEM and aftermarket customers across North, Central and South America.
Prior to joining Maxcess, Mr. Buch served in a variety of positions for Windmoeller & Hoelscher Corporation, the North American headquarters of the W&H Group, a 150-year-old, family-owned, German company, and world-leading supplier of film extrusion lines, printing presses and converting equipment for the production of flexible packaging. In his previous positions, he successfully increased sales, grew profits, created new revenue streams, expanding into new markets and reinvigorated the service business.
"We are thrilled to have Javeed join our Maxcess Executive Leadership team as our new Vice President and General Manager Americas," said Odd Joergenrud, CEO of Maxcess. "His wealth of knowledge and extensive industry experience will help Maxcess achieve our goals and grow our web handling business across several industries and help new and existing customers work better, faster and smarter."
"I am honored to be joining Maxcess and look forward to collaborating with a talented global team to drive growth and exceed customer expectations," said Javeed. "Maxcess is known for its commitment to innovation, sustainable solutions, and customer service. I am eager to contribute to the Company's continued success."
Javeed holds a Bachelor of Science degree in Electrical Engineering for Aligarth Muslim University in India. He and his family will be relocating to Maxcess' Oak Brook, IL headquarters.
Visit www.Maxcessintl.com or call 1-844-MAXCESS to learn more about our solutions to help you work better, faster, and smarter
Press Contact:  Keith Laakko – Global Vice President Marketing & Business Development
About Maxcess: Maxcess saves you time and money by optimizing your peak output performance. We do this by leveraging the world's best web handling brands, offering customized, automated, end-to-end sustainable web handling solutions. Maxcess helps its customers maximize productivity through innovative products and services worldwide by combining global service and support across the storied product brands of RotoMetrics, Fife, Tidland, MAGPOWR, Webex, Valley Roller, Componex and Maxcess Vision Systems, Maxcess offers an unrivaled network of application experts and end-to-end web handling solutions to help you work better, faster, and smarter. Visit them online at www.maxcess.com