Oak Brook, IL – Webex, a Maxcess brand known for its innovative solutions in the web handling industry, is thrilled to announce the launch of its latest breakthrough product, the Webex Electric HTR Roller. With a relentless commitment to providing cutting-edge solutions to its customers, Webex has engineered the Electric HTR Roller to meet the demands of various industries, from film micro embossing to non-woven calendaring.
The Webex Electric HTR Roller has been designed to address the unique needs of industries requiring high-temperature applications. This revolutionary product boasts several industry-leading features, making it a game-changer for manufacturers looking to achieve precise process control and efficiency.
Key Features of the Webex Electric HTR Roller:
Even Heat Profile: The Electric HTR Roller offers an even heat profile end-to-end, ensuring consistent temperature distribution across the entire roll face, essential for high-quality production.
Multiple Heating Zones: With multiple heat zones, the Electric HTR Roller accommodates various web widths, allowing manufacturers to optimize their processes.
Fast Ramp-Up Time: The Electric HTR Roller achieves process temperatures of up to 850°F in approximately 1 hour, significantly reducing downtime and improving overall productivity.
Integrated Zone Temperature Control: Featuring integrated zone temperature control with high alarm shut-off, the Electric HTR Roller offers enhanced safety and precision.
Compatibility: The Electric HTR Roller seamlessly integrates with existing controllers, providing a hassle-free upgrade option for manufacturers. Alternatively, customers can request Webex to supply compatible controllers.
Reduced Maintenance: This environmentally-friendly solution reduces maintenance costs and downtime, offering long-term benefits to users.
Energy Efficiency: The Electric HTR Roller provides up to 70% energy savings compared to traditional fluid-heated rolls, making it a cost-effective choice for businesses.
Jason Annes, Global Product Manager at Maxcess, shared his thoughts on how the Webex Electric HTR Roller will benefit customers:
"The Webex Electric HTR Roller represents a major advancement in the web handling industry. With its precision control, fast ramp-up time, and energy efficiency, manufacturers in various industries can expect improved productivity, reduced operational costs, and superior product quality. At Maxcess, our commitment is to provide innovative solutions that make a real difference to our customers, and the Electric HTR Roller is a testament to that commitment."
Made in the USA with sourced components, Webex ensures that the Electric HTR Roller will be delivered to customers faster than the competition, minimizing downtime and helping manufacturers stay ahead in their respective markets.
Visit www.Maxcess.com or call 1-844-MAXCESS to learn more about our solutions to help you work better, faster, and smarter.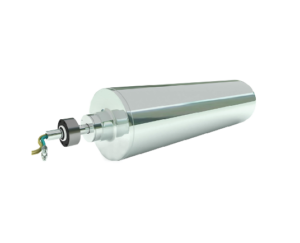 Press Contact: Keith Laakko – Global Vice President, Marketing & Business Development
klaakko@maxcessintl.com
About Maxcess: Maxcess saves you time and money by optimizing your peak output performance. We do this by leveraging the world's best web handling brands, offering customized, automated, end-to-end sustainable web handling solutions. Maxcess helps its customers maximize productivity through innovative products and services worldwide by combining global service and support across the storied product brands of RotoMetrics, Fife, Tidland, MAGPOWR, Webex, Valley Roller, Componex and Maxcess Vision Systems. Maxcess offers an unrivaled network of application experts and end-to-end web handling solutions to help you work better, faster, and smarter. Visit them online at www.maxcess.com.