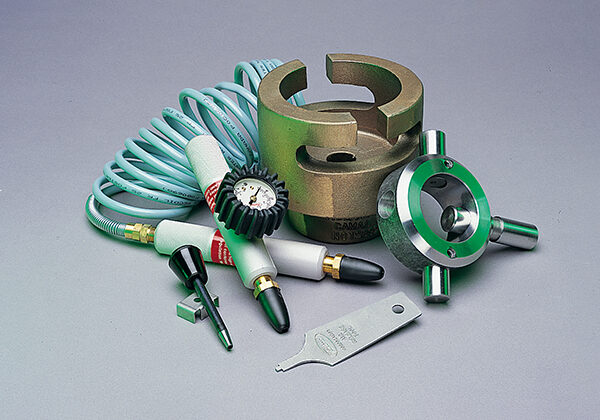 Accessories for Tidland Shafts and Chucks
We have the accessories you need for maintaining optimal operation of your shafts and chucks.
Air inflation tools, recoiling hoses, air hose with fittings, air release tool, punch and gauge, journal puller assembly and more!
Now offering Tidland Air System Fittings for repair and replacement of internal bladder air shafts.
Shaft and Chuck Accessory Overview
Keep your air shafts and chucks running as good as new with accessories and tooling from Tidland. Downtime is never an option, so make sure you are prepared for quick maintenance and bladder changes with these accessories. For more accessories and to purchase them directly online, visit MyMaxcess.com.
Mark I Roll Saver Adapters
These adapters are available in three sizes and may be used in combination with the Mark I Roll Saver to restore 101.6 mm (4 inch), 127 mm (5 inch), 152.4 mm (6 inch) and 171.5 mm (6 3/4 inch) crushed cores.
Mark I Roll Saver Sledge Weight
The Sledge Weight is a useful tool for driving the Mark I Roll Saver into difficult cores. It's better, simpler, and safer than any type of sledgehammer 9 kg (20 lb) weight.
Battery
Cardboard
Flexible Packaging
Food and Beverage
Nonwovens
Packaging
Pharmaceutical
Specialty Converting
Tag and Label
Towel and Tissue